Ok so let me start by saying that in terms of design and decor, I have always picked my color schemes rather impulsively. (This is consistent with my personality- I bought the first wedding dress I tried on and my home is the first one we looked at when we got serious about buying).
I'm certainly not one of those people who brings home 50 swatches and then narrows them down and then orders the small paint samples and tests them out on the wall so they can see how they look in all forms of light. And I almost never ask for an outside opinion. I just walk into the store, pick the color, order the paint and start the project….
like a BOSS!
Most of the time this works for me and I have very few regrets.
But other times….not so much.
What's interesting is that when something isn't working, I don't usually realize it right away (example I just realized I have been wearing the wrong size bra for years now. How did I realize this? I looked down. But that's a different story for a different blog)…
  But when I finally do see the error of my ways, it must be fixed RIGHT AWAY (Thank God for VS semi annual clearance sales).
As you can imagine this delightful personality quirk goes over big with the hubs.
Well, such was the case with my bold choices I made in the en suite bathroom. Looking back, I should have realized other peoples reactions to it weren't as enthusiastic as mine.  But I remained ignorant to what a bad idea the original color scheme was for a good three years. Here's the original post about that re-do. When I look at it now, this is my reaction: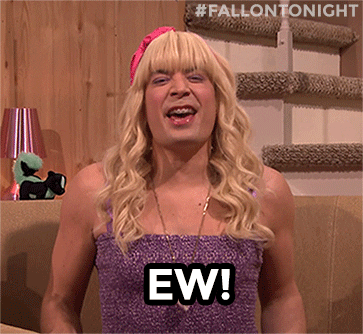 I'm almost embarrassed to show these pictures again!
First of all, why I decided paint a room that is smaller than a closet such a dark color is beyond me.
This is the room I do my makeup in and it was cavelike even on the brightest day. (Maybe that explains the bra thing). Not only that, toothpaste splatters galore. On the daily.
 After a good three years it was time to give my floor tile another coat of paint so I thought, lets do it all over!
Disclaimer- when I did this three years ago, I only did one coat and knew almost immediately after that it needed two coats.
And here's what the tile looked like before:
One of the most common questions I get on this blog is people asking how the tile paint holds up. Here's my official response:
It's great for a non-high traffic area that won't get a lot of wear and tear. There is no shower in this room so it doesn't get a lot of steam and water wear and tear. Also, I almost never wear shoes when I am in here and I think that helps to preserve the paint as well. It had a few nicks and scratches from the past three years so I decided to do an extra coat. I would NOT recommend this for a main bathroom or a high traffic area.
The next big change was the wall color. I used Sachet (Valspar). It's a super light gray/lavender. I chose it because it coordinates with the paint colors in my bedroom (which has changed since my last bedroom post).
I also changed the art behind the toilet (more framed note cards from the dollar bin at Michaels) and added more pieces,  as well as changed the window valance ( a DIY job).
(I took these pictures at all different times on different days so if your one of those people who likes to analyze paint colors in all light, you will enjoy this smorgasbord of mediocre pictures of the same miniature room.)
The end result is something much more pleasant to wake up to. The room feels lighter and brighter and my toothpaste splatters all but disappear!